We continue our series of articles regarding the PHOENIX decentralized fund. In addition to FTX, our fund is an official partner of the BitMEX exchange, and today we will discuss the strategy that is currently working on this exchange.
II. PHOENIX BitMEX
Small diversification portfolio with hedging
Launched on 13.06.2021.
It consists of several strategies: trend and counter-trend that work on two separate accounts on the BitMEX exchange.
Both PHOENIX BitMEX projects are featured on AIVIA:
https://app.aivia.io/ranking/181
https://app.aivia.io/ranking/168
Pros
●     extensive coverage for all market conditions - tuned for low, medium, and high market volatility, taking into account abnormal movements on 03/13/2020 and 05/19/2021;
●     average trading frequency;
●     The leverage does not exceed 2X
●     The current maximum drawdown is 13%
●     Maximum allowable drawdown up to -30%;
●     strategies aim to increase the BTC.
Cons
●     Small diversification of risks for trading pairs, due to limited opportunities and low liquidity of pairs on the BitMEX exchange.
Plans for the Future
●     solving the low activity of the strategy by adding new futures pairs to the trading as they become available on the BitMEX exchange, provided that these instruments are sufficiently liquid.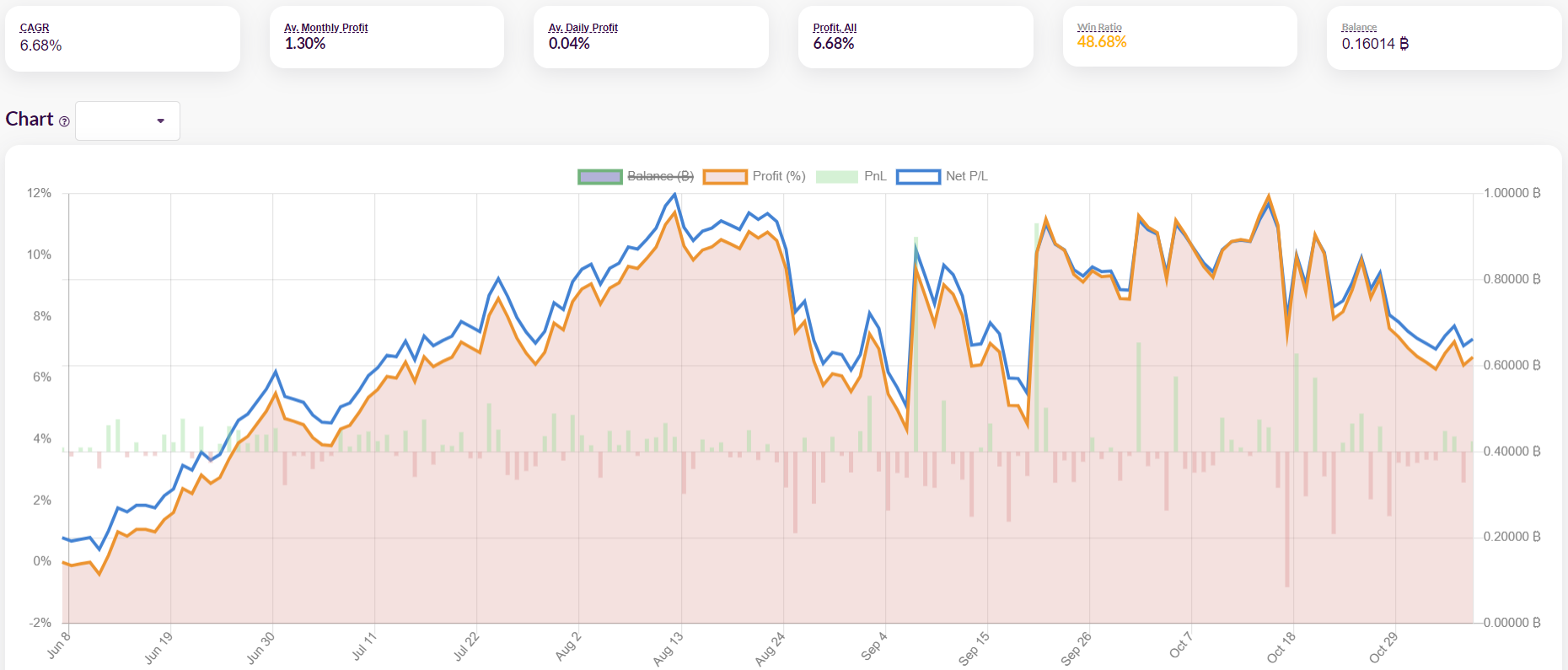 Link to preview the performance of the portfolio - https://mytrades.link/portfolio/61132be2-e4ad-4b62-a264-1de77b7799c6?step=day
Conclusions on the use of the trading system
PHOENIX BitMEX:
On BitMEX, the situation in terms of diversification is different compared to FTX - 2 accounts, 3 pairs, 5 strategies. Liquidity on other pairs does not allow trading safely - the exchange has lost its leading positions in terms of trading volumes. But there is another feature on BitMEX - earnings on the growth of Bitcoin, since deposit in BTC.
Telegram:
PHOENIX chat - https://t.me/phoenixxmbt
Contacts - @U_Roma, @YakovByakov
hamster-bot chat - https://t.me/bitmextrue
Website:
https://hamster-bot.com/phoenix
Projects AIVIA:
https://app.aivia.io/ranking/181
https://app.aivia.io/ranking/168