The trading system for the second year of its operation showed a result of +22.3%📈
Since the beginning of work +73.9%📈
▶️public monitoring◀️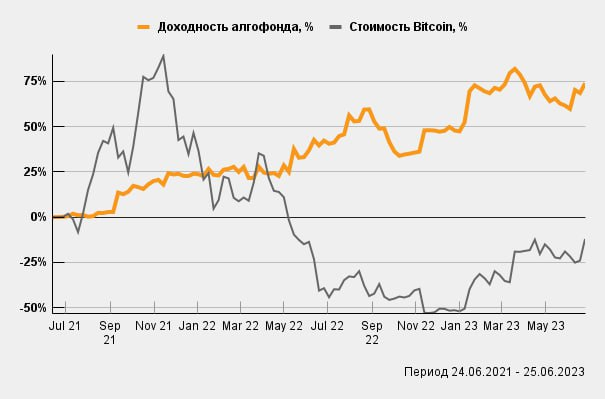 Two years ago, on June 25, 2021, we launched trading on the public monitoring account of our algofond. The bearish trend of last year was replaced this year by long-term flat accumulations with even lower volatility. The market has formed a strong opinion that the bottom of the current cycle has already been set.
The approach we have chosen for the second year in a row shows conservative profitability without deep maximum drawdowns. This year's result, though a little more modest than last year's + 40%, but still, given the severity of the conditions, is an excellent result.
A few interesting facts:
- The volatility of the PHOENIX yield chart continues to be many times calmer than that of BTC;
- holding BTC since the launch of PHOENIX would bring a loss of -12%, against +73.9% for the algofond;
- the ability to use coins (BTC, ETH and others) as collateral for the fund;
- during the year, about 10,000 transactions were made on the account of public monitoring.
Congratulations to everyone on this significant event and, according to tradition, may profit come with us!
We will be glad to see you among our investors! The connection instructions, description and conditions can be found at the link - https://hamster-bot.com/phoenix
Telegram:
chat - @phoenixxmbt
channel - @phoenixfundpro
contacts - @U_Roma, @YakovByakov, @dreamcast2