Step by step instruction on how to receive AIVDrop bonus.
Step 1.
Create an account on AIVIA platform.
Step 2.
Register as an Independent Business Owner (IBO). A person has to purchase a Business Center for 40 USDT to become an IBO. After creating an account in your Dashboard on the very top right corner click on the button BUY PACKAGE.

Step 3.
After you click on the BUY PACKAGE button you will be transferred to the IBO registration page. Please click on the BUY button on the very bottom of the page as shown on the screenshot below in order to register and make a payment of 40 USDT.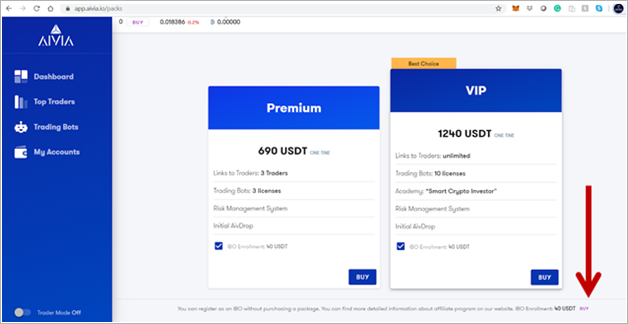 Step 4.
On this page you will need to agree to the IBO Terms and Conditions by checking the box and after that, click the CONTINUE button, see the screenshot below.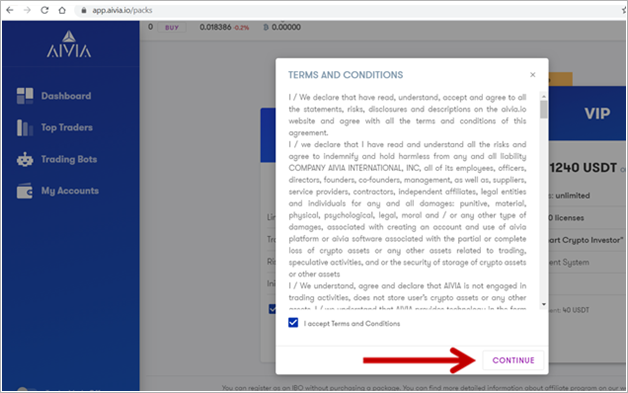 After clicking on the CONTINUE button the window with the payment option will pop up. Choose the payment method and complete your purchase and registration.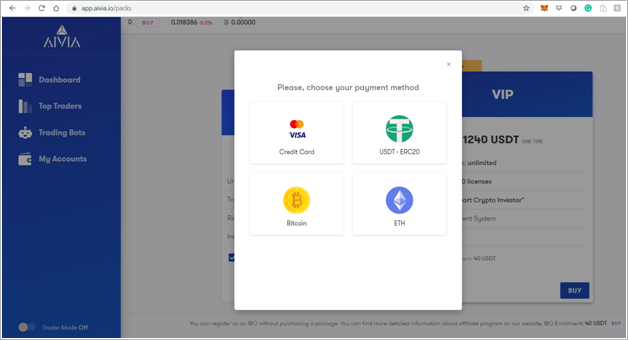 You can click here for the Instruction on how to make a payment .
After you have completed your IBO registration and submitted a payment You can qualify for AIVDrop Bonus.
What Is an AIVDrop Bonus
AivDrop is a weekly Reward Earned in Aiv Tokens for up to 60 months. Reward is awarded every Sunday beginning February 02, 2020. The number of tokens awarded depends on the number of tokens that the IBO holds in its wallet. For more information see table below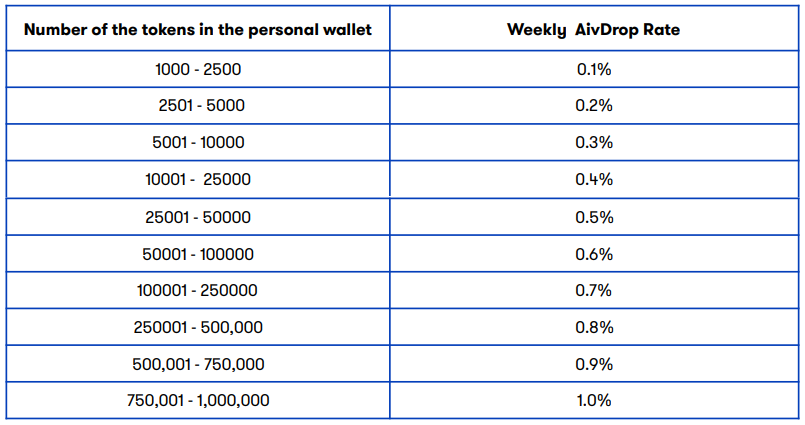 How to qualify for AIVDrop Bonus
To earn and receive the AIVDrop bonus, at least 1000 AIV Tokens must be held on the IBO's wallet.
Attention: Wallets that have more than 1,000,000 AIV tokens do not participate in the AIVDrop program.
How is AIVDrop Bonus Awarded
AIVDrop bonus is transferred every Sunday at 22:00 UTC to the verified wallet of the IBO which holds AIV tokens.