April 2022 was not an easy month for many, I'm sure of it.
Many traders buy from high and get a loss, someone tried to sell the market, and then still made a profit.
Pay attention to the fact that the account on which the trade is conducted and from which the transactions are copied has only $ 2690. This was done specifically so that people with a capital of $ 2500 or more could also join me and earn. And that all transactions would be copied correctly even for small money.

Profit Range Trading Strategy - Stage1 adequately traded April 2022, although the volatility, which is so important, was at a minimum.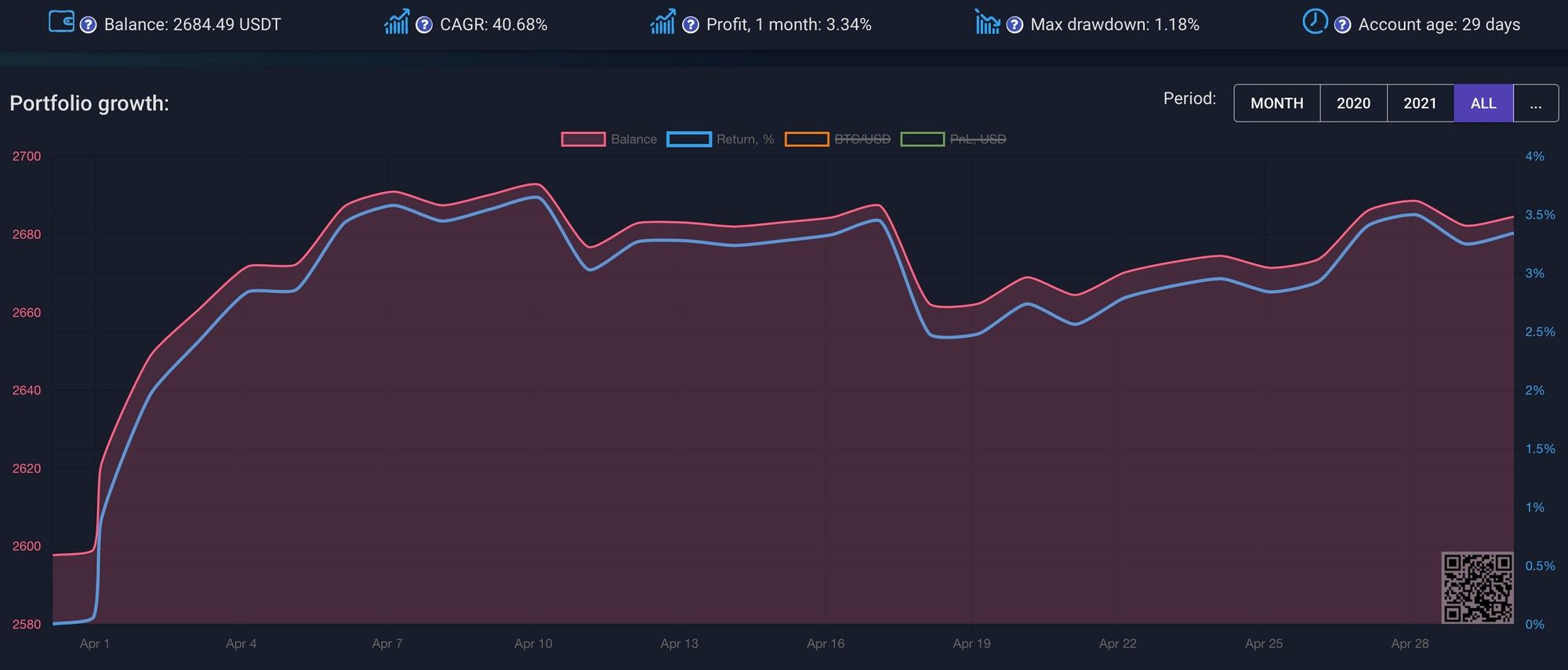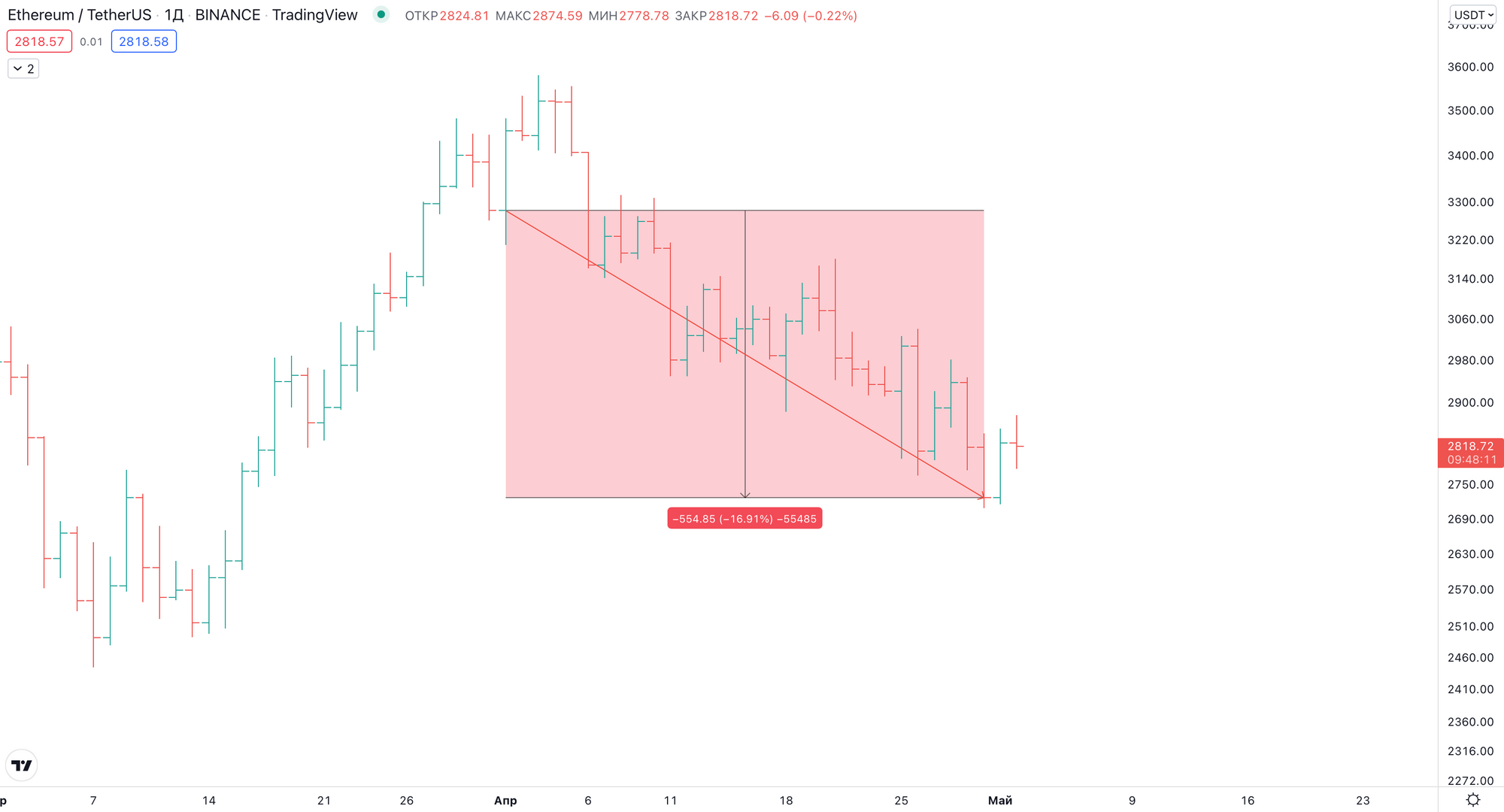 As you can see in the chart above, the month was bearish on the market.
Trading in the BUY and HOLD mode from the beginning of the month would bring a loss of -16.91% At this time, working on the Profit Range Trading Strategy - Stage1, we made + 3.28%  
By the way, profit since the beginning of the year amounted to +16.03% to capital.
Links with statistics:
EQUITE - https://www.equite.io/ru/LZ_sUmvRRM
SAVINSKYI- https://savinskyi.com/ranking/369
BINANCE writes PNL without deducting commissions, as a total of 394 transactions were made - 0.358% of PNL went to the commission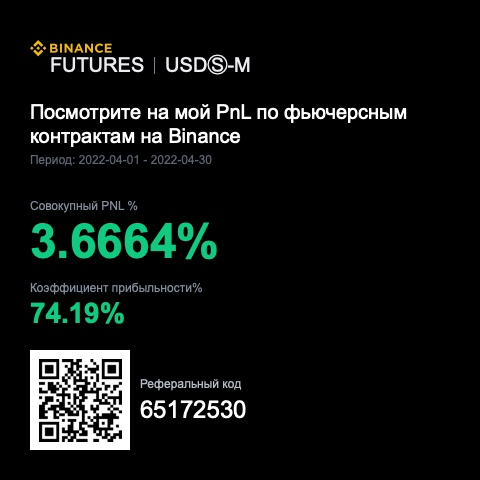 By Days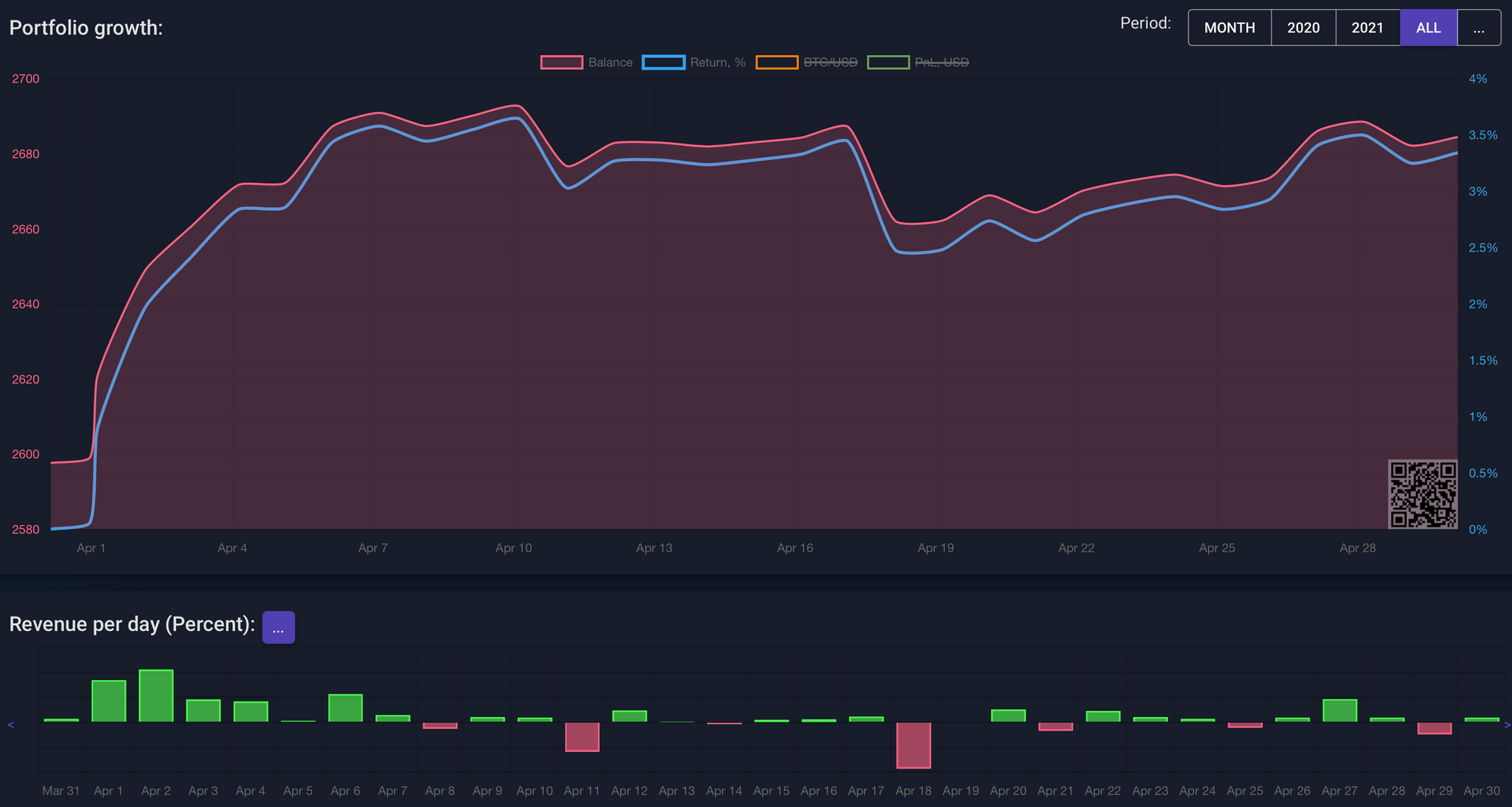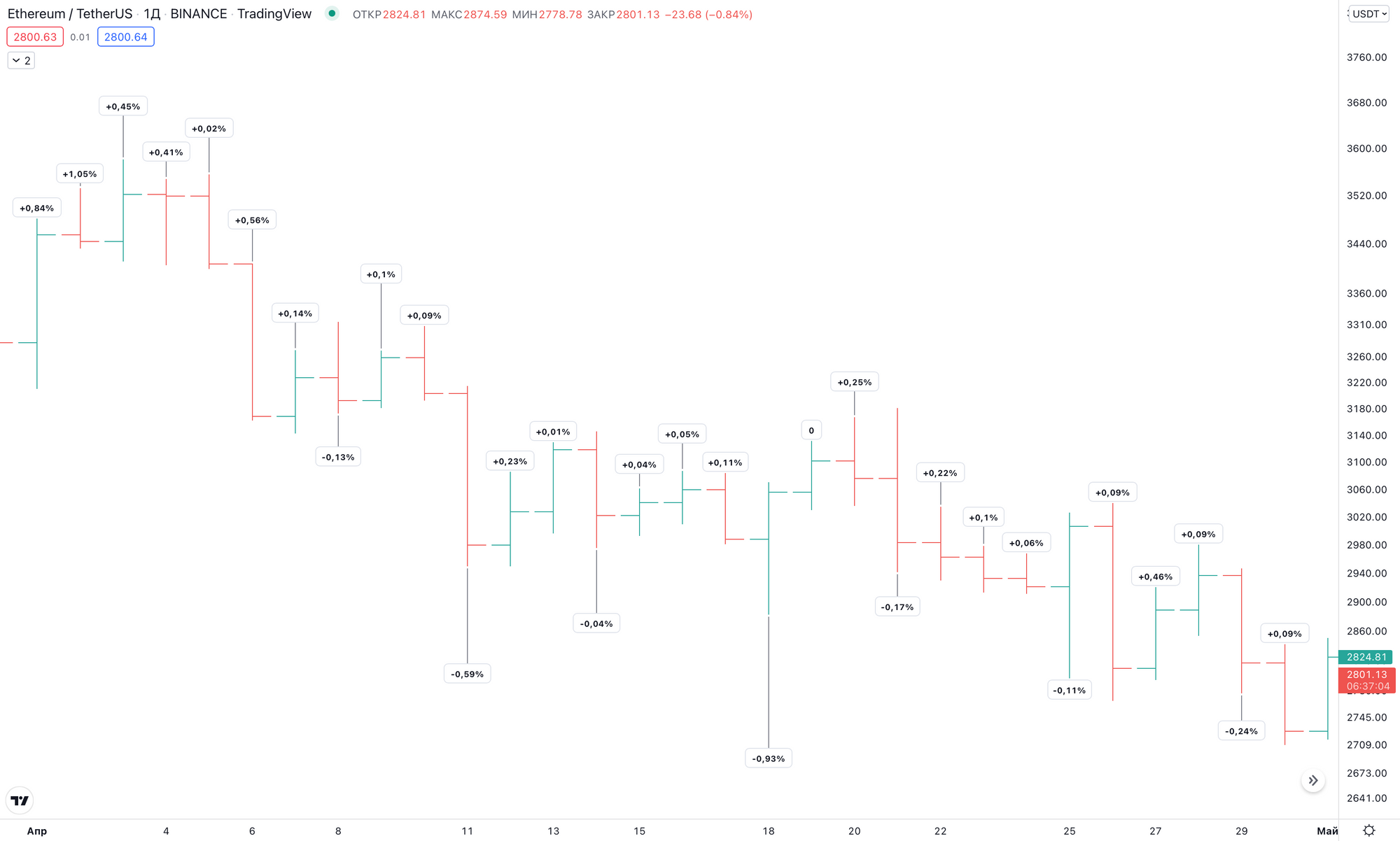 Each candle = 1 day, and on top of the candle is the indicative result of our trade.
In general, the trading system increased capital by 3.28% in March.
Most profitable trading days:
April 1 +0.84%
April 2 +1.05%
April 6 +0.56%
What results did each tool show in April:
The table data from the service for testing trading systems, since after the close of the month I always run it through the tester again in order to understand that the actual trading is better or the same as the tests ...
The actual trading in April turned out to be more productive than on the tests... This is encouraging. Pay attention to the rate of profitability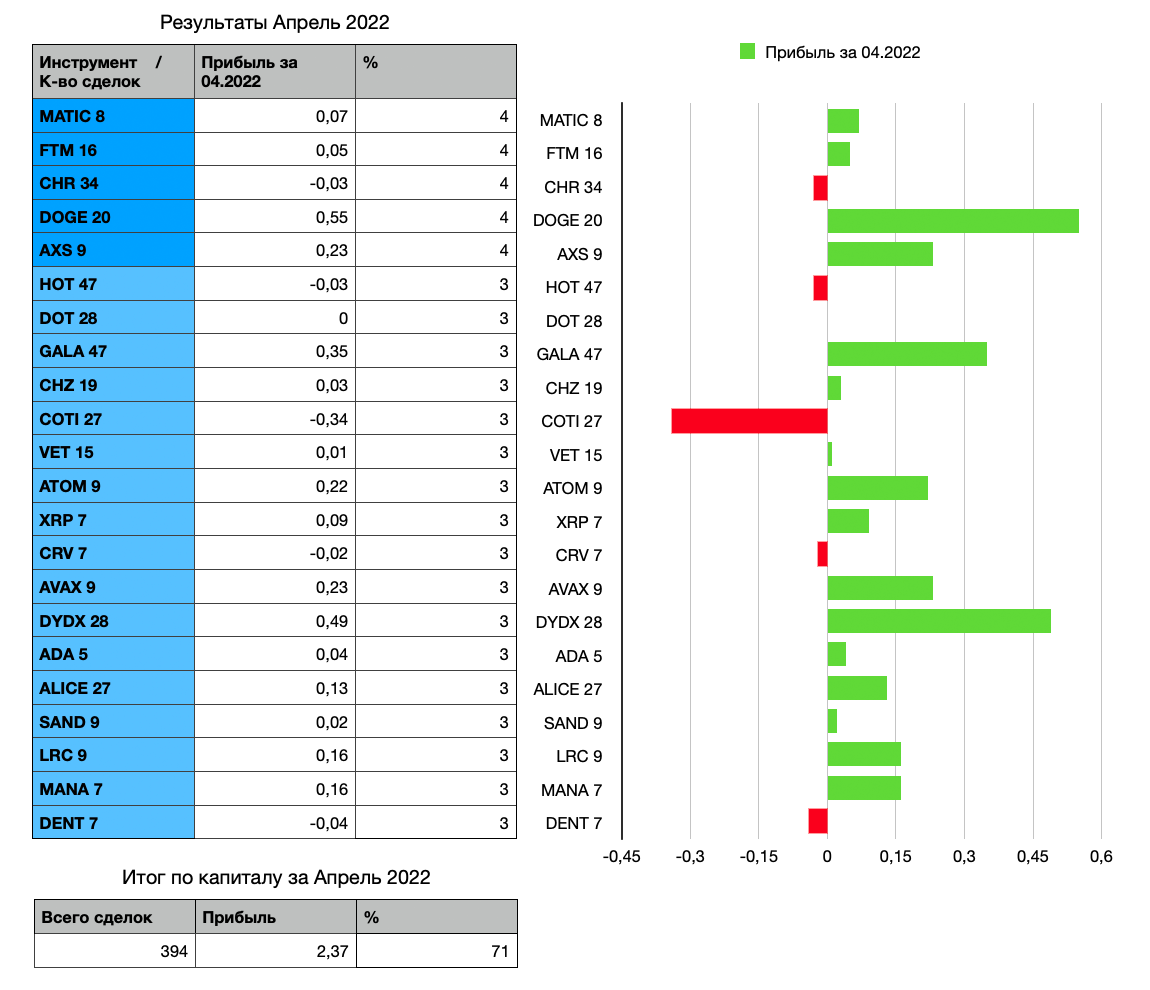 Profit indicators:
In fact, April closed +3.28% The tester shows +2.37%
There are 22 instruments in total, and the leader among all is DOGEUSDt (It brought us a net 0.55% profit, despite the fact that only 4% of the capital was realized in it.
GALAUSDt, ASXUSDt DYDXUSDt, ATOMUSDt, AVAXUSDt also performed well
COTIUSDt, DENTUSDt and CRVUSDt performed poorly. Very modest loss, but I think that in April they will do their job and show good performance + instruments with negative returns for March and April, we will exclude from trading or slightly change the approach for them.
A total of 394 transactions were made in March.
TOTAL:
April was a bearish month, but nevertheless, the PRTS - S1 trading system allowed us to earn 3.28% of capital. This is a good result, and most importantly, in such a market as it is now, it is quite stable.
Earnings from $10,000 actually invested in April would be $328, and this is with minimal risk.
We will count on the fact that in May there will be more volatility, more buyers, and we will take even more profit from the market.
Have a good trading month to us and you!
For those who are not with us yet, for cooperation, write to: @Jeck_Savinskyi in Telegram